Fri, 28 May 2004
What the heck is a Tyrolean Traverse?
My youngest brother, Brent, is a climbing Ranger for the National Park Service stationed at the North rim of the Black Canyon of the Gunnison. One of the projects he worked on recently, upgrading the Chasm Tyrolean, was written up at climbing.com.
What the heck is a Tyrolean, you ask? So did I. And I'm still not sure I understand. <g>
Way to go, Brent!
Mon, 15 Mar 2004
CV Spring Craft Show
Jenny had a booth at the CV Spring Craft Show this weekend. It was a real disappointment for her. Worked 14 hour days for a couple of weeks making some really cute items for the show, but nothing sold.
If you're interested in a cute, meticulously painted, hand crafted Easter-egg holder, e-mail me. She's selling them for $35, each. Click the image above for a better view.
Sat, 22 Nov 2003
Daddy, I've just been in a wreck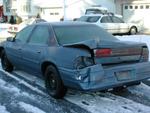 Nothing in the world can make a father's heart turn to stone as fast as those words. Fortunately, it wasn't a very serious accident.
We got our first snow of the season, a record breaker, with 8 inches in Spokane. April drove home from WSU for the Thanksgiving break. Just outside of Spokane, the road narrowed to one lane due to accidents ahead. Traffic stopped in April's lane. Unfortunately, the Ford F-350 behind her didn't stop soon enough!
Highway 195 was closed for two hours later in the evening.
We're certainly glad to have her home. We'll be extra nervous when Chris makes the same trip Wednesday night or Thursday morning.
Sun, 16 Nov 2003
First item of Dad's listed on eBay
Today, I listed the first of many items that belonged to Dad on eBay. This item had no particular sentimental value. It looked like a good candidate for a start. If you're curious, check it out. It is eBay item 2573916471.
Pictures from our Colorado/Arizona trip
Update: The old clubphoto albumn expired long ago. I've reposted the pictures from our trip to Colorado and Arizona on Flickr.
Tue, 28 Oct 2003
Final Goodbye to Dad
On October 18, 2003 my father, Powell O. Mims, passed away after a long struggle with heart disease.
Dad was the brightest light in my life. He illuminated a fascinating world for me with his incredible intellect and zeal for life. He shared his fascination for math and science with me, lead me on many inward journeys of discovery, and helped shape my character and interests.
Dad achieved much in his life. He was an inventor, with at least two patents to his name. He served in the US Navy as a pilot. He worked for Martin-Marietta on the Titan missile system and other cold war era defense projects. He worked as a surveyor for PG&E in California before returning to Colorado to finish his education at the Colorado School of Mines, receiving his Bachelor's Degree in Mathematics.
In 1971, Dad moved us to Hotchkiss then Paonia, Colorado. He opened a self service gasoline station on Roger's Mesa (near Hotchkiss), then another in Paonia. The station in Paonia was also a fast food restaurant known, then, as the Huskyburger. Mom and Dad ran the businesses together. They became jobbers (distributors) for Husky Oil, then for Chevron Oil. They opened several more self service stations and supplied others. They had gasoline transport trucks and smaller farm delivery trucks. They provided many Western Colorado communities with fast, friendly service and low prices.
In 1977, Dad suffered a major heart attack. His doctors were not optimistic. They prepared us for the worst and performed bypass surgery in an effort to prolong Dad's life and improve its quality. He recovered from that first surgery remarkably fast, but continued to suffer from heart disease and several more heart attacks.
In 1982, Dad underwent another bypass surgery. His recovery from this one was anguishingly difficult. Heart disease continued to progress, and in 1991, he moved in with me and my family in Orem, Utah and was put on the waiting list for a donor heart at the University of Utah Medical Center.
Dad received a heart transplant in 1991. Unfortunately, the donor had Hepatitis C. That fact went unnoticed until 1994 when Dad was diagnosed with the disease and had already begun to suffer from some of the rarest and most brutal conditions associated with it.
Despite the difficulties, Dad spent many happy years with us — many more than his doctors predicted and many more than anyone with less determination, courage, and strength would have.
I am proud to have had not only a father-son relationship with this great man, but a strong, close friendship with him. Dad and I talked frequently on the phone, corresponded on-line, and spent as much time as we could together, even though it was much less time than either of us wished.
For about the last 18 or 20 months of his life, it was a struggle to just make it from one day to the next. Dad lost the ability to pursue many of the interest that had kept him so alive previously. He also lost most of his hearing. During the last weeks of his life, he was unable to converse on the phone, too frustrated with his inability to hear. I missed our normal telephone conversations terribly.
Jenny and I planned a vacation — our first two week vacation, ever. We traveled first to Colorado to visit with Mom and Dad, then to Arizona to spend time with Jenny's family. I spent some precious hours with Dad. He was tired and struggling, but he had not lost his whit, charm, and sense of humor. We parted with a warm hand shake and wave that I will remember forever.
On our return trip home from Arizona, we got word from my brother, Brian, that Dad had passed away. He died at home while Mom was away at work. Apparently, his heart finally failed. As much time as Dad had to endure in hospitals, I'm happy that he spent his last days at home with Mom instead of in a hospital bed.
Dad was absolutely devoted to my mother. Anyone of less courage and strength would not have been able to endure his daily routine. Dad fought through each day for the pleasure of spending one more day with the love of his life. She will miss him profoundly as will everyone that knew and loved him.
The world will be a much different place for me without the bright light that has guided and mentored me all these years. I will cherish his memory and hold dear the knowledge, skills, and love of life he gave me.
Wed, 06 Aug 2003
Domino effect
I could have had lunch with the guys, today. Instead, I'm sitting here waiting for my darling wife to pick me up for lunch – she may never show.
You see, while I was away in Santa Maria last week, I got a call at 11 PM one evening. I startled awake in a strange place, stumbled out of bed searching for my ringing cell phone in the dark running into every piece of furniture in the room. When I finally laid hands on the cell phone, tethered by its charger cord, I pulled the lamp off onto the floor and missed the call.
When I was finally able to focus my eyes, the cell phone display read, Missed call from Jenny.
So, I called back and got Christopher. He was in Pullman.
Dad, I borrowed April's car to drive to Pullman, he dove right in, and on the way out of town I stopped to get a coffee. (This must be significant.) "At the stop light, my foot slipped off the brake and I bumped into the back of a Mercedes.
"Now, their insurance company is calling and they want me or you to call them back."
(This conversation did wonders for my ability to obtain a good night's sleep.)
I told Chris I'd call him the following day. And I did!
At 7:00 AM, sharp, I returned the favor and rolled him out of bed with a cell phone call. I told him not to contact the other driver's insurance agent, but, rather, to call our agent, give him the details, and let him handle it.
What, you ask, does this story have to do with the fact that I'm sitting here waiting for Jenny?
We had a lunch date. She called me shortly before noon to tell me she had to take April's car downtown to have pictures taken and would stop by the office on her way home so we could get some lunch. Three minutes later, I got an invite to go to lunch with the guys.
I called Jenny right back to release myself from our failing lunch date. I got Christopher. In Pullman. Again.
Seems he got himself in some financial difficulties at the end of last semester and hasn't yet earned enough money to pay off his cell phone bill. After months – nay, years – of pleading, the kids all have cell phones, why can't I have one? I got Jenny her very own cell phone. And to what end? It goes to which ever baby bear can't make their own payments and I still can't ever get in touch with my wife.
Just think, if it hadn't been for that damn cup of coffee Chris had to have last week, I'd be having lunch with Jenny or the guys – at least not sitting here writing this – and you wouldn't be wasting time reading it. Talk about a domino effect…
Disclaimer: The facts in this article should not be considered facts. They should be considered hearsay and stirred with poetic license. They should not be considered suitable for admission as evidence, should, say, a claim of injury resulting from described bump into Mercedes be made. Which it has. Apparently. …another domino falls.
Fri, 18 Jul 2003
Crackers died
Crackers is a silly name for Cockatiel, I suppose, but the kids were young and they helped name him. He was purchased as a gift for Christopher for his 11th birthday. This morning, Chris and Jenny were sitting on the sofa when they heard 3 distressed chirps from Crackers. When they got to his cage, he was feet up.
He was 11 years old. Supposedly cockatiels can live up to 20 years, so Crackers apparently died young.
Several years ago, Crackers gave us one of our lasting, family memories. He escaped and was missing for 2 weeks.
We had a policy of locking all the doors when Crackers was out of his cage to prevent him from escaping if someone unexpectedly opened an outside door. For whatever reason, one of the doors didn't get locked and one of the kids came in while another had him out of his cage. He made his exit.
I got a panicked call at work and came home to find some teary eyed kids trying to coax their bird down from the top of the willow tree in the back yard. To no avail.
He moved from tree to tree, then finally took off, circling higher and higher, and disappeared from sight.
We placed an ad in the news paper, notified the local pet stores, and spent evenings and weekends on our bikes pedaling around the Spokane Valley calling for our lost bird.
A failure on our part, we never called the Animal Shelter. We simply thought of it as a place for dogs and cats. Not birds. It turns out, someone found Crackers, exhausted beside the road and took him to the Animal shelter. A worker there saw our ad in the paper but not before they had adopted Crackers out. She called to tell us so that we wouldn't be worried, but offered little hope of us getting our bird back.
We pleaded our case, and she contacted the new owners. She ended up bringing Crackers to the house to see if she could determine, definitively, whether or not he was our missing bird.
It was obvious from the moment he entered the house. "HEY! Where's everybody been! You wouldn't believe what's happened to me!" he jabbered in bird speak.
The clincher for the lady that brought him by was when one of the kids grabbed a toothbrush and said, Watch, he brushes his teeth. While April or Chris (I don't recall which) brushed their teeth in front of Crackers, he started bobbing his head up and down doing his best toothbrush noise imitation. There was no doubt in anyone's mind, it was Crackers.
Rest in peace, Crackers.