Thu, 01 May 2008
Two moose and a turkey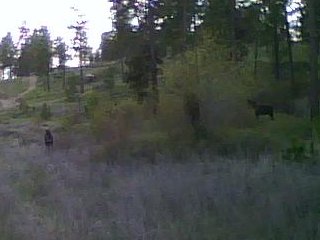 I rode the cross-country loop on Beacon Hill tonight. Between the two peaks, I saw a wild turkey. She disappeared before I could get a picture.
On the way back, just east of the west peak, two cow moose were eating bud laden shrub branches beside the trail. I passed within about 15 yards of one of them.
Since moose are big, unpredictable, and sometimes aggressive, I gave myself some distance before snapping a couple of pictures with my cell phone camera.
About this weblog
This site is the personal weblog of Marc Mims. You can contact Marc by sending e-mail to:
marc@questright.com.
Marc writes here about cycling, programming, Linux, and other items of personal interest.
This site is syndicated with RSS.
Credits
CSS stolen from Tom Coates who didn't even complain.