Sat, 22 Nov 2003
Daddy, I've just been in a wreck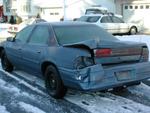 Nothing in the world can make a father's heart turn to stone as fast as those words. Fortunately, it wasn't a very serious accident.
We got our first snow of the season, a record breaker, with 8 inches in Spokane. April drove home from WSU for the Thanksgiving break. Just outside of Spokane, the road narrowed to one lane due to accidents ahead. Traffic stopped in April's lane. Unfortunately, the Ford F-350 behind her didn't stop soon enough!
Highway 195 was closed for two hours later in the evening.
We're certainly glad to have her home. We'll be extra nervous when Chris makes the same trip Wednesday night or Thursday morning.
About this weblog
This site is the personal weblog of Marc Mims. You can contact Marc by sending e-mail to:
[email protected].
Marc writes here about cycling, programming, Linux, and other items of personal interest.
This site is syndicated with RSS.
Credits
CSS stolen from Tom Coates who didn't even complain.